Pop-ups from sub-domains of Cloudfront.net should not be mistaken for legitimate notifications. In fact, security researchers have described it as a deceptive pop-up, offering malware-laden content. If you are seeing this Cloudfront.net pop-up during browsing, you should wonder whether your computer is not infected with an adware parasite. According to specialists, the infection is taking advantage of the Amazon' content delivery network.
Cloudfront.net pop-up is legitimate, but the website's sub-domains are not
Cloudfront.net is also known as simply CDN, and is considered legitimate. You can ask: why is it considered potentially dangerous? Well, specialists have mentioned that sub-domains of Cloudfront.net website are exploited for the purpose of delivering malicious content: phishing scams, social engineering pop-ups, or fake notifications, claiming that you need to update your Adobe Flash Player or other type of popular program. You could notice pop-ups from this website because it is featured in the websites you visit. However, the repetitive appearance of this annoying notification could be treated as a symptom of an adware infection.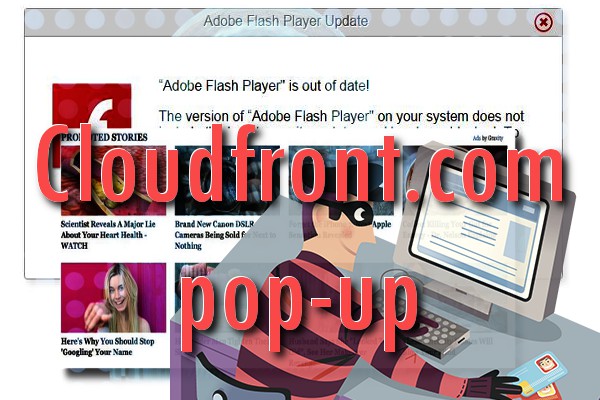 We have to be clear: Cloudfront.net pop-up itself is not a virus, and Amazon uses it in its services. However, the sub-domains of this website are not considered as reliable. You could be exposed to very deceptive advertisements that will aim to trick you into installing rogue software, revealing your personally identifiable information or credentials. Therefore, your privacy and security could be put at risk.
Online advertisement should always be viewed with caution. If you accidentally interact with a malware-laden content, you will infect your operating system with malware parasites. This malvertising method is used to distribute many types of infections: browser hijackers, Trojans, or even ransomware viruses.
If you notice any of the subdomains of Cloudfront.net appear on your screen, we advise you to run a scan with an anti-malware tool. It could be that your OS is currently infected with an adware parasite, triggering various types of suspicious online adverts. If you have recently installed an unknown freeware tool, find it thru your Control Panel and remove it.